Roof Right: A Maryland Energy Efficient Windows Company
Reduce your energy bills & increase the curb appeal of your home with energy efficient windows installed by Roof Right!  There are hundreds of vinyl window brands on the market today – but they are not all created equal. Many ordinary vinyl windows are designed only for low cost, not for value. We install top-of-the-line, energy efficient windows for long-lasting great looks. We carry a wide selection of energy efficient products from trusted manufacturers.
If your windows are drafty, have flaking paint, or simply need to be modernized, let us show you what you can do with replacement vinyl windows. Replacement windows can not only help give your home a facelift and increase your home value, but they can go a long way in making your home more energy efficient.
Roof Right offers single hung, double hung, casement, awning, bow, bay, garden, sliding and specialty shaped windows. The windows are available in an array of colors and stains with several different size and style grids.
Roof Right's Service Awards and Reviews!
Window Services We Provide 
New Window Installation
Roof Right ​​has a wide range of window shapes, styles, sizes, and options to complement your home, business, style, and budget. Our windows are truly customizable to meet your needs thanks to our unrivaled design flexibility. Throughout Maryland we're proud to provide superior value through expert window installation, craftsmanship, the highest quality materials, and an exceptional level of service. To get your energy-efficient, custom replacement windows, give us a call today.
Window Repairs
Even a well-kept home can look shabby if its screens, doors, and windows are in disrepair. Often, all that is required to tidy and refresh the appearance of your home is simply repairing these worn and damaged screens and windows. Our team can come to you if you need repairs on items in your home that you can't bring to our shop. The Roof Right window repair team can handle repairs to built-in structures like patio doors, screened enclosures, storm doors, and windows. With a phone call to our shop, our staff can schedule an appointment for you.
Why Install Vinyl Siding On Your Home
Increasing the value of your home
It's no surprise that home improvement projects and upgrades come at a cost, but homeowners can rest easy knowing that window replacement projects can pay off handsomely. According to the Remodeling 2020 Cost vs. Value Report (www.costvsvalue.com), new vinyl windows can recoup over 73 percent of their initial investment. If a home's windows need to be replaced or are on the verge of needing replacement, some potential buyers may be turned off. If you're on the fence about replacing your windows, don't wait until you're ready to sell; take advantage of the benefits of new windows while you're still living there, and then reap the benefits of your investment when you sell.
Improved security and safety in the home
Windows that are difficult to open or are painted shut are more than an annoyance; they can be a safety hazard, such as when attempting to flee a fire. New operable wood, fiberglass, or vinyl windows will not only provide fresh air to homeowners, but their improved functionality will also benefit your family's safety. Newer windows also come with improved security features, such as modern locks and security sensors, giving homeowners added peace of mind.
Dust and allergens are reduced
Between-the-glass blinds and shades are one of the benefits of modern windows. These blinds and shades are securely tucked between the panes of glass within a window frame, keeping them dust-free and reducing the amount of time spent cleaning your window coverings. As an added bonus, cordless between-the-glass blinds and shades keep pets and children safe and out of the way.
Increased comfort at home
With energy-efficient, well-sealed new or replacement windows, you can help reduce cold drafts and hot spots in your home. Argon gas fills the space between the panes of dual- or triple-pane windows, preventing heat transfer and lowering the amount of ultraviolet rays that enter your home. New or replacement windows that are properly installed form a tight seal with your home and prevent air leaks. Updated windows can help keep climate-controlled air in and make your living space more consistently comfortable, lowering your energy costs in the long run.
An increase in energy efficiency
New windows can also help you save money by improving your home's energy efficiency, reducing wear on your furnace and air conditioner. ENERGY STAR® certified windows help you save money on energy, protect the environment, and improve your home's overall comfort. 
Energy-efficient windows are available in wood, fiberglass, and vinyl. Because wood is a natural material with low conductivity, it allows for very little heat transfer and is therefore naturally insulating. Fiberglass windows made from our patented five-layer fiberglass material can withstand extreme temperature changes, making them ideal for a variety of climates. Additionally, vinyl windows with multiple insulating air chambers help keep your home warm in the winter and cool in the summer.  New windows preserve your heating and cooling systems as they do not need to run as frequently.
Noise abatement
Noise pollution has been shown to be harmful to our health in studies. Fortunately, new or replacement windows can help reduce the amount of noise we are exposed to on a daily basis by providing a more relaxing environment. Noise from traffic, lawn mowers, and barking dogs can be reduced with insulated frames and triple-pane glass. As a result, you'll have fewer naptime interruptions and more peace and quiet.
Boost the Curb Appeal Of Your Home
New windows can transform the look of your home both inside and out. Wood, fiberglass, and vinyl windows come in a variety of interior and exterior finishes to match your personal taste and the design of your home. Make a bold statement with vibrant red exterior cladding or enhance your curb appeal with a striking black exterior window finish. Your home's overall value will benefit from an updated exterior aesthetic.
Low-maintenance Options
Windows today are made to be low-maintenance. Between-the-glass blinds reduce the need for dusting, and sashes that tilt in make it easier to clean areas that were previously difficult to reach. Spend less time cleaning and more time admiring the view through your Pella window, whether it's new or replacement.
Roof Right: A Company That Goes Above and Beyond For You
When you hire Roof Right to install or repair your gutters, we will not only meet your expectations but also exceed them. Our commitment to high standards of customer service and our ability to always go above and beyond for our clients has generated recognition for Roof Right as a trusted contractor in Maryland. For instance, Roof Right has earned the Angie's List Super Service Award 10 years in a row! This prestigious award is reserved for extraordinary contractors who reach the top 5% on Angi. We also have a 98% overall satisfaction rating on Guild Quality.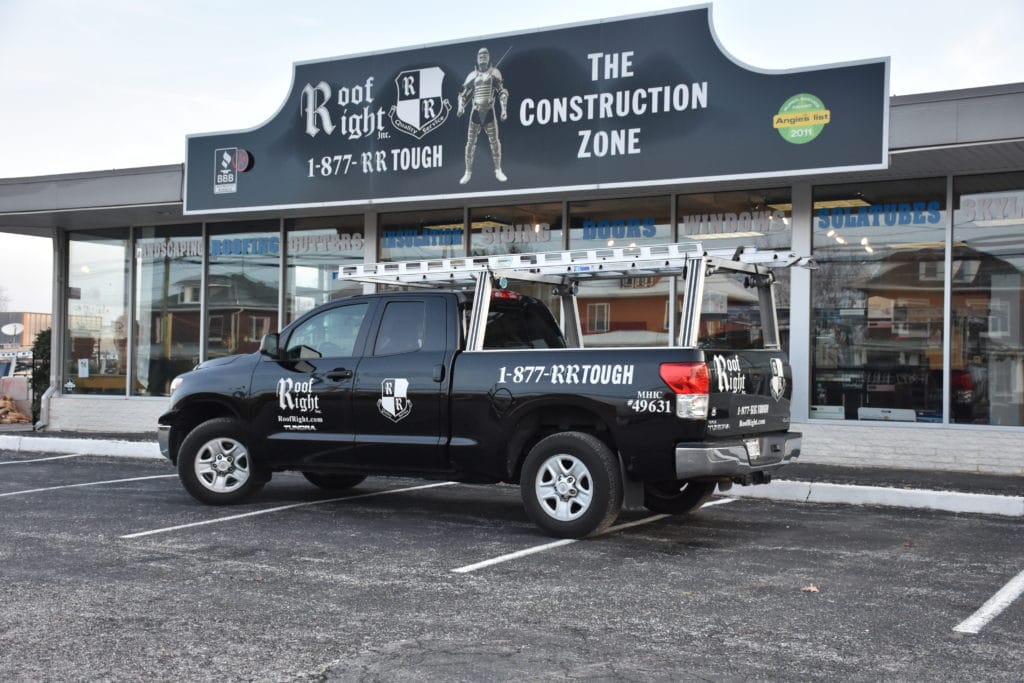 Serving Homeowners throughout Maryland Since 1994!
At Roof Right, we have realized customer service and trust are poorly lacking in the roofing industry. That is why our roofing company takes pride in our exceptional service which includes showing up when we say we will, providing a thorough 17-point inspection, listening to you so we can make a quick and thorough diagnosis of your roofing problem, and cleaning up after ourselves as we work
Highlights of Partnering With Roof Right
All of our estimators and crew are licensed and insured.
We carry multiple brands so you have a variety of options
We use project managers to oversee our projects. 
Need financing? We got you covered!
Schedule Your Estimate With Us!
Questions? We have answers!
Give us a call or send us an email!