Roof Right: Vinyl Siding Installation Services
Looking to add curb appeal along with improving your home's energy efficiency? No paint. No stain. No hassles. Vinyl siding delivers the strength, durability, and beauty of real wood with a variety of design options and multiple color options. Based on an average-size home, repainting can cost thousands of dollars every few years. Vinyl siding never needs painting, caulking, or patching because, unlike wood, it won't crack, peel, rot, or split. Roof Right carries siding from the best manufacturers in the industry, including Mastic, CertainTeed, James Hardie.
Vinyl siding is available in a range of styles and colors to create a one-of-a-kind design for your home. Installing vinyl siding is a wonderful way to make architectural changes along with improving the value, energy rating of your home. If you are looking for a good investment to increase your home's value and appeal vinyl siding is just the project. Contact the professionals at Roof Right for a free estimate on your siding project.
Roof Right's Service Awards and Reviews!
Vinyl Siding Services We Provide
New Vinyl Siding: 
Siding is available in virtually any shape, size, pattern, texture, or color, giving you virtually endless customization options. From traditional wood to stone veneer, shingles, panels, and any other texture you can think of, there's something for everyone. With vinyl siding, you can make your home's exterior look like almost any other building material. Your neighbors will be perplexed as to why they didn't notice when you built a new house.
Siding not only has a beautiful exterior design, but it also requires very little maintenance. Siding materials don't need to be repainted every few years, and some don't even need to be painted at all. Siding appeals to you because of the money and time you'll save from less maintenance.
Increased energy efficiency is one of the most significant advantages of installing vinyl siding. Siding is a material that is applied to the outside of a house to create an insulation envelope. This barrier keeps conditioned air in while keeping solar energy out. Your energy bills will be significantly reduced, and you will be more comfortable.
Don't look for a new house if you're tired of the drab old look of your home's exterior and need a change. With siding, you can enjoy your neighborhood while keeping the home you love. Call Roof Right today to learn more about what siding can do for you. Enjoy the benefits of a beautiful home that will be the envy of the neighborhood while also saving time and money.
Vinyl Siding Repairs: 
In some cases, simply replacing the damaged siding is not the best option. If your wood siding has dry rot, for example, your replacement siding will succumb to the same problems if the underlying problem isn't addressed. That's why, as your go-to Carroll County siding repair company, we investigate the problem thoroughly before making a recommendation. We'll inform you of your options and assist you in deciding on the best course of action. Siding replacement is often more cost-effective than continuous patching if your siding is nearing the end of its lifespan.
Why Install Vinyl Siding On Your Home
Vinyl Siding Is A Good Investment
Vinyl siding is a good investment if you want to increase the value of your home by remodeling.
Replacing your home's siding was at the top of the list of projects with a high return on investment.
While updating your home's siding may not seem as glamorous as other remodeling projects such as a new kitchen, the benefits of vinyl siding make it well worth the investment.
Installing vinyl siding can provide numerous benefits, whether you are planning to sell your home or simply want a change. Continue reading to learn more about the benefits of vinyl.
It is Low Maintenance
Consider how much maintenance your siding will require when selecting it for your home.
Vinyl siding is the least expensive and most low-maintenance option available. Vinyl siding requires very little maintenance to keep it looking brand new.
You're ready to go once it's installed. With vinyl siding, you'll get your money's worth because you won't have to budget for any repair or maintenance costs over time.
You only need to clean it once a year. Fortunately, cleaning vinyl siding is simple and can be done by yourself. 
You will never have to paint your home because of the material. Vinyl siding is resistant to termites and rot, so it will last for years and years without needing to be maintained.
It's Long-Lasting
Vinyl siding's durability is a big part of why it's low-maintenance and cost-effective.
It's made to withstand anything from strong winds to hail. It can also withstand high levels of moisture. This keeps the wood from rotting and corroding.
It won't warp or rust either. To back up its claims, vinyl siding frequently comes with a lifetime warranty. For subsequent owners, the warranty can be prorated for up to 50 years.
It is Less Expensive
Vinyl siding is popular among homeowners because of its low cost.
Vinyl is less expensive than wood or brick. Not only is installation significantly less expensive than other options, but you also get more value for your money over time.
Wood siding, for example, is more prone to damage and requires far more maintenance than vinyl siding, but it also costs significantly more. Vinyl siding can save you over $1,000 for every $1,250 square foot, depending on where you live.
You must also consider the cost of upkeep and repairs. As previously stated, vinyl siding requires very little maintenance, so you won't have to worry about additional costs down the road.
It can help you save money on your heating and cooling bills.
Not only will installing vinyl siding save you money on the cost of the product, but it will also save you money on utilities.
Insulated vinyl siding prevents heat loss through a process known as thermal bridging. Heat can be lost where wall studs contact exterior siding, even if your home has another form of insulation.
Insulated vinyl siding acts as a protective blanket over the studs in the walls. In the summer, your home will be cooler, and in the winter, it will be warmer.
Other types of siding can cause gaps and cracks, allowing warm and cool air to escape.
Energy credits may be available for homes with insulated vinyl siding, allowing you to save even more money on your taxes. Vinyl siding is environmentally friendly.
It's Adaptable
Vinyl siding has the advantage of being able to mimic any other type of siding.
No one but you will be able to tell the difference because modern vinyl siding is so convincing. You'll benefit from the advantages and qualities of vinyl while still having the exterior of your dreams.
Vinyl is available in virtually any color, texture, or profile. Vinyl siding can even be made to look like stone or cedar. 
If you think vinyl siding can't give you the look you want, think again.
Boost Your Curb Appeal
Installing new vinyl siding can improve your home's curb appeal while also increasing its value.
Vinyl siding is for you if you want to have the best-looking house in the neighborhood. Although redoing the exterior of your home may appear daunting, the benefits and potential return on investment are well worth the effort.
It's been said that if a buyer isn't impressed by the exterior of your home, they won't bother looking inside. Vinyl siding is a low-cost way to update the appearance of your home.
It's Simple to Install
Vinyl siding is much easier to install than the alternatives. 
This means you will save both time and money on installation. Vinyl siding is lightweight and includes pre-drilled holes.
This makes it simple to apply the vinyl to the studs. Other types of siding may require longer, more time-consuming installation processes, as well as more money out of your pocket.
If you want the job done quickly and easily, vinyl siding is the way to go. While installing vinyl siding isn't difficult, we still recommend hiring a professional to do the job.
Roof Right: A Company That Goes Above and Beyond For You
When you hire Roof Right to install or repair your gutters, we will not only meet your expectations but also exceed them. Our commitment to high standards of customer service and our ability to always go above and beyond for our clients has generated recognition for Roof Right as a trusted contractor in Maryland. For instance, Roof Right has earned the Angie's List Super Service Award 10 years in a row! This prestigious award is reserved for extraordinary contractors who reach the top 5% on Angi. We also have a 98% overall satisfaction rating on Guild Quality.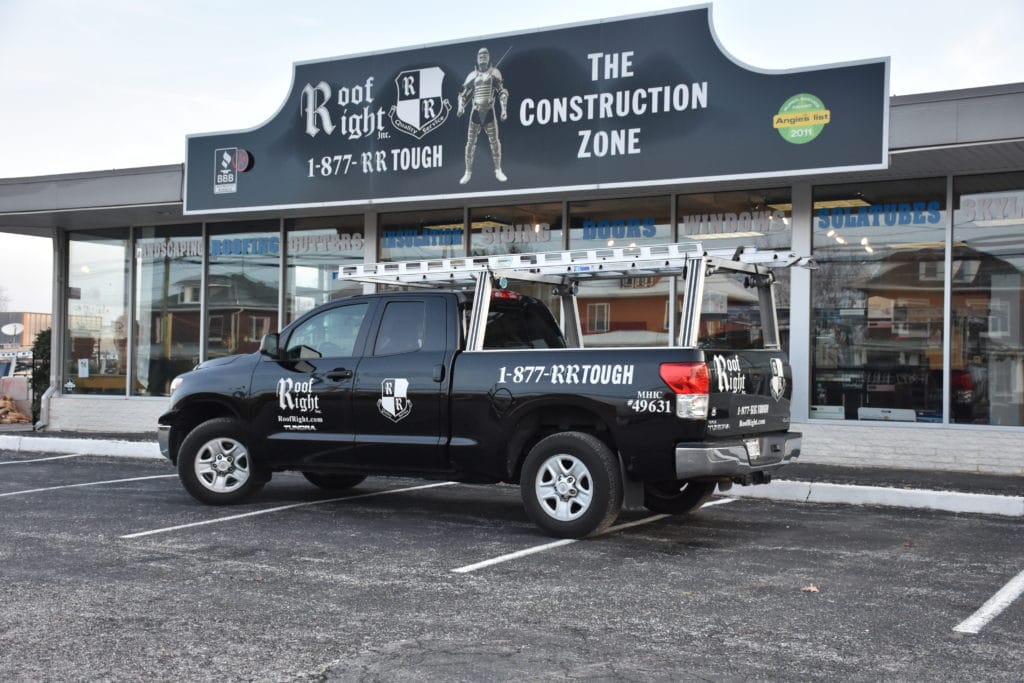 Serving Homeowners throughout Maryland Since 1994!
At Roof Right, we have realized customer service and trust are poorly lacking in the roofing industry. That is why our roofing company takes pride in our exceptional service which includes showing up when we say we will, providing a thorough 17-point inspection, listening to you so we can make a quick and thorough diagnosis of your roofing problem, and cleaning up after ourselves as we work
Highlights of Partnering With Roof Right
All of our estimators and crew are licensed and insured.
We carry multiple brands so you have a variety of options
We use project managers to oversee our projects. 
Need financing? We got you covered!
Schedule Your Estimate With Us!
Questions? We have answers!
Give us a call or send us an email!