Roof Right Skylights & Solatubes
Brighten your home with natural sunlight with skylights & solatubes installed by the team at Roof Right! Sunlight in your home can transform a dark room into one that is bright and full of natural light. It can also highlight textures, and bring out the vibrant colors of your furniture. And that is a beautiful thing! Skylights allow you to light your home for free during the day using natural sunlight. That means you can spend less on electricity and more on you! Roof Right offers a complete system of skylight products for any kind of roof.
Solatubes Offer Advanced Engineering
Solatube products unite the sun with advanced engineering to bring beauty and comfort to your home. Our revolutionary daylighting and Smart LED systems utilize patented optical technologies to brighten interiors with natural light while our energy efficient attic ventilation systems make your live space more comfortable, and that makes your home a better place to live.
Roof Right's Service Awards and Reviews!
Quick and easy installation with Solatubes
Solatube Daylighting Systems take just a couple of hours, thanks to our patented fastening and tube telescoping system. Attic obstructions aren't a problem either. Our angle adapters and extension tubing make it easy to skirt around rafters and joists for quick, easy installation.
Solatube captures light through a dome on the roof and channels it down through our patented internal reflective system. This tubing is far more efficient than a traditional drywall skylight shaft, which can lose over half of the potential light. The tubing will fit between rafters and install easily with no structural modification. At the ceiling level, a diffuser that resembles a recessed light fixture spreads the light evenly throughout the room.
Traditional skylights are unable to accomplish the same performance results with similarly sized products because the materials used for the light shaft (drywall) are ineffective in transferring light. Solatube roofing contractors with a traditional skylight, the cost of the skylight is only a portion of the total materials cost. One must also add in the cost of framing members, paint, drywall, etc. Then labor becomes a very large portion of the cost because a contractor must frame out the skylight shaft, drywall it, tape it, then paint it. He must also flash it on the roof.
The cost of a Solatube is competitive with other quality skylights, but the cost of installation is a fraction of a traditional skylight because Solatubes do not require a shaft to be constructed. Solatubes round design and one piece flashing system allows water and debris to flow past unobstructed. Traditional Skylights have a reputation of leaking. Many times this is an issue of incorrect installation, but their square design invites problems. First, the flat up slope side collects branches, leaves and other debris, that interferes with proper drainage. As the water dams up, it migrates under shingles or tiles to find an escape route, ergo leaking. Traditional Skylights do not offer any optical enhancement devices to help increase performance. On the north side of a sloped roof, the skylight is rendered virtually useless without these devices.
Roof Right: We go above and beyond for our customers.
When you hire Roof Right to install or repair your gutters, we will not only meet your expectations but also exceed them. Our commitment to high standards of customer service and our ability to always go above and beyond for our clients has generated recognition for Roof Right as a trusted contractor in Maryland. For instance, Roof Right has earned the Angie's List Super Service Award 10 years in a row! This prestigious award is reserved for extraordinary contractors who reach the top 5% on Angi. We also have a 98% overall satisfaction rating on Guild Quality.
Schedule Your Free Estimate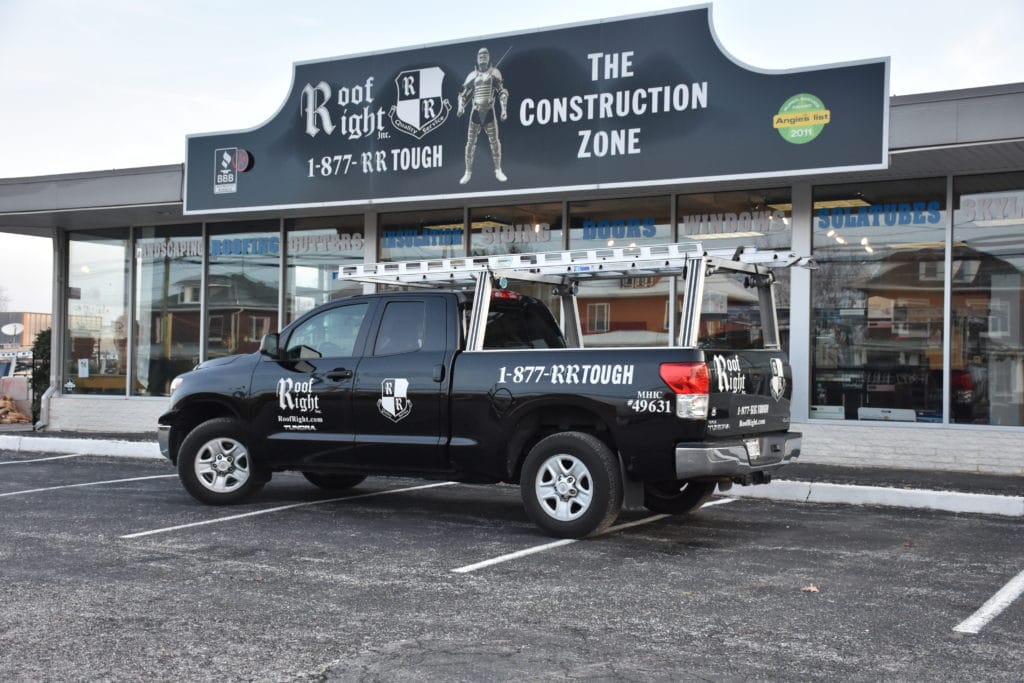 Serving Homeowners throughout Maryland Since 1994!
At Roof Right, we have realized customer service and trust are poorly lacking in the roofing industry. That is why our roofing company takes pride in our exceptional service which includes showing up when we say we will, providing a thorough 17-point inspection, listening to you so we can make a quick and thorough diagnosis of your roofing problem, and cleaning up after ourselves as we work
Highlights of Partnering With Roof Right
All of our estimators and crew are licensed and insured.
We carry multiple brands so you have a variety of options
We use project managers to oversee our projects. 
Need financing? We got you covered!
Schedule Your Estimate With Us!
Questions? We have answers!
Give us a call or send us an email!