Residential Roofing Services
Roof Right provides superior residential roofing services to homeowners in Anne Arundel County, Baltimore City, Baltimore County,  Carroll County, Harford County, Howard County, Montgomery County, and the surrounding areas. As a fully licensed and insured business, we emphasize customer service, transparency, and value for your money.
Based in Hampstead, Maryland, our full-service roofing company is locally owned and operated. We are passionate about our work and our community, so we treat our clients the same as we treat our neighbors. Contact us for a free estimate on Residential Roofing Services.
Roof Right's Service Awards and Reviews!
Types of Residential Roofing Services We Offer
Roof Right: Your Residential Roofing Pros! 
New Roofs: 
Since 1994 Roof Right has installed over 25,000 new roofs for homeowners throughout Maryland and Southern Pennsylvania. As a fully licensed and insured roofing contractor with a 98% overall customer satisfaction rating according to Guild Quality, we are here to serve. This has led to awards and recognitions such as the Angi's Super Service Award, an A+ rating with the Better Business Bureau, The Home Advisor Elite Service Rating, and many more. To learn more about our roofing services please schedule your free consultation with Roof Right today. 
Roof Repairs
Is your roof leaking? Do you have water spots on the walls or ceilings? Have you noticed rotten wood on your home? Do you have leaks around your chimney or skylights? Are you looking for fast and affordable residential roof repairs in Maryland? If so, then you may need to repair or replace your roof before the damage escalates.
Getting a roof repaired is something most homeowners dread, and when the roof does need repair it is important to get not only the finest quality materials available but the best price on installing those materials as well. Contact Roof Right today to learn more about our residential roof repair services for residential homeowners in Maryland.
Roof Maintenance
Your roof, just like your car, should get routine inspections. Your roof gets more abuse from the elements than any other part of your home and preventative maintenance is a key element to longer service life. Protect your home with the Roof Right Shield Program. Every year, our expert roofers will climb up on your roof and into your attic to ensure that your roof is providing you with the maximum protection for your home. To learn more about our residential roof maintenance program please contact us today. 
The Types of Roofs We Specialize In:
Asphalt Roofs
In addition to offering a variety of style choices, asphalt roofing shingles are easy to install, making the entire roof replacement process. a breeze! Due to modern engineering techniques and the dynamic properties of asphalt, manufacturers are capable of producing numerous specialty products that exist across all shingle types. These include shingles that fight algae growth, offer enhanced resistance to damaging hail, and offer cool roof color technologies that reflect the heat of the sun to keep homes cooler and can reduce the expenses of air conditioning. 
Composite Roofing
Comprised of engineered polymers, composite slate roofing and composite shake shingle roofing products are made to look just like the real deal. Similar in their aesthetics to slate or cedar shake roofing shingles, composite roofing shingles come in a wide variety of colors, thicknesses, blends, and widths. Installed properly a composite slate roof can last for 50 years or more.
Metal Roofs
If you are a homeowner looking for one of the most durable and sleek roofing systems, a metal roof may be your best choice. New metal roofing products including metal shingles, metal shake, and metal tiles come in a wide variety of colors and styles. At Roof Right, we proudly install all types of metal roofs throughout Maryland including steel, copper, and aluminum roofs.
Slate Roofs
For homeowners looking for a sophisticated and elegant look, slate roofs can boost the curb appeal of your home. All while providing you with a lasting and reliable roofing system. To learn more about slate roofs and their available colors, durability, and high standards please contact Roof Right today.
Cedar Roofing
If you are a homeowner looking for one of the most durable and sleek roofing systems, a metal roof may be your best choice. New metal roofing products including metal shingles, metal shake, and metal tiles come in a wide variety of colors and styles. At Roof Right, we proudly install all types of metal roofs throughout Maryland including steel, copper, and aluminum roofs.
FAQS Regarding Our Roofing Services
Is Roof Right licensed and insured?
Yes we are licensed in both MD and PA 
MHIC #49631 PA License #PA04 and fully insured
Are you a local business?
With Roof Right having over 30 full-time employees who live throughout the state of Maryland and Pennsylvania, you are not just working with an outside roofing company, but rather your neighbor!
Do you offer a warranty or guarantee on your work?
Yes, Roof Right offers a warranty and guarantee on our work. Due to the various products and services that we offer these warranties vary. During your initial consultation, a Roof Right team member will be sure to go over this with you. 
If I have a problem, who do I contact?
The benefit of Roof Right, we have a fully-staffed office that can be reached during normal business hours Monday through Fridays that are here to serve. For emergency situations, all calls are forwarded to a Roof Right employee (not an answering service) for immediate assistance. 
Are you certified by your shingle manufacturers?
Yes, Roof Right is certified by the following roofing manufacturers.
GAF

CertainTeed

TAMKO

Owens Corning
Can you provide me with references to your work?
Yes, Roof Right is proud to provide references for our work. You can also view our reviews on platforms such as Google, Facebook, Angi, and many more. 
How do you protect my property when you are on-site?
 We do extensive tarping on the home. Deck and landscape protection and use ladder guards to protect the gutters. 
We do two clean ups to be sure no nails are left.
Will you remove my old roof?
Yes we will do a complete tear off of the existing roof. 
If you find rotten roof or soft decking how is that addressed during the roof repair or installation process?
It is removed and replaced with pieces of 1×6" plank,  ¾" CDX plywood, or a ½" CDX plywood depending on the roof construction.
Do you install drip edge/edge material when you install my new roof?
Yes we use the largest readily available drip edge on the market.
Do you provide us with a written estimate?
We provide you with a digital estimate directly after your appointment.
Roof Right: A Company That Goes Above and Beyond For You
When you hire Roof Right to install or repair your gutters, we will not only meet your expectations but also exceed them. Our commitment to high standards of customer service and our ability to always go above and beyond for our clients has generated recognition for Roof Right as a trusted contractor in Maryland. For instance, Roof Right has earned the Angie's List Super Service Award 10 years in a row! This prestigious award is reserved for extraordinary contractors who reach the top 5% on Angi. We also have a 98% overall satisfaction rating on Guild Quality.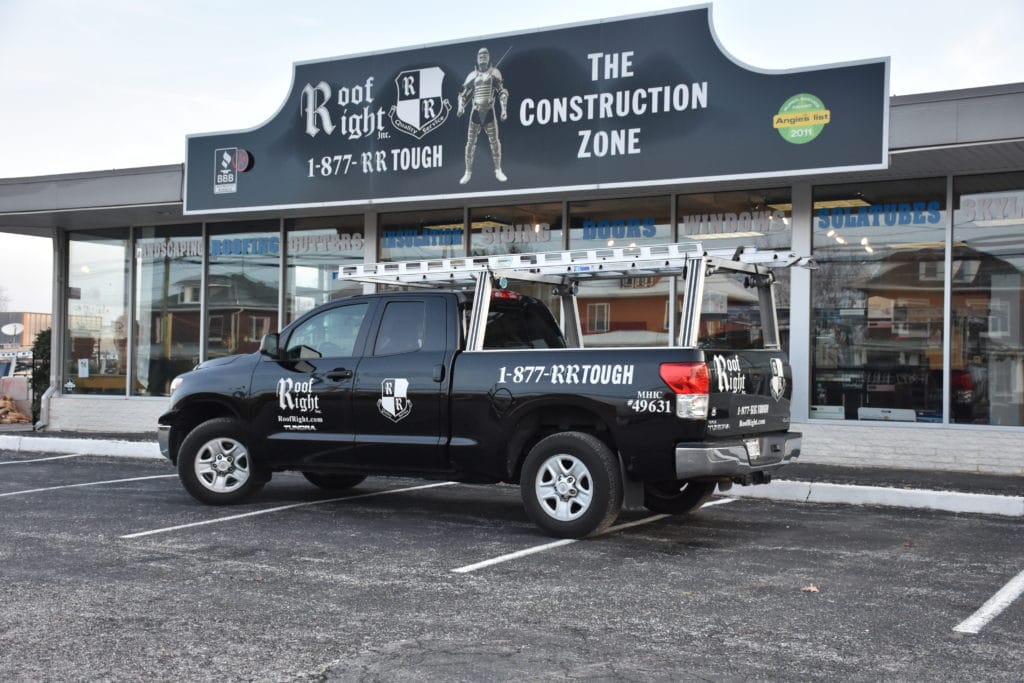 Serving Homeowners throughout Maryland Since 1994!
At Roof Right, we have realized customer service and trust are poorly lacking in the roofing industry. That is why our roofing company takes pride in our exceptional service which includes showing up when we say we will, providing a thorough 17-point inspection, listening to you so we can make a quick and thorough diagnosis of your roofing problem, and cleaning up after ourselves as we work
Highlights of Partnering With Roof Right
All of our estimators and crew are licensed and insured.
We carry multiple brands so you have a variety of options
We do a free attic inspection (not many companies do!)
We use project managers to oversee our projects. 
We will pay for pet care while completing your project. 
Need financing? We got you covered!
Schedule Your Estimate With Us!
Questions? We have answers!
Give us a call or send us an email!