Roof Inspection in Cockeysville, MD
Your roof is one of the most important components of any home. After all, the roof is what shields the rest of your home from the elements such as rain, wind, and snow. A well-maintained roof also aids in maintaining a consistent indoor temperature helping to lower your monthly utility bills. At Roof Right we can perform a thorough roof inspection in Cockeysville, MD to assess the health of your roof.
From missing shingles to torn flashing and signs of wood rot, we know what to look for. Because of our expertise and training, our expert roofing inspectors have been in high demand throughout Maryland since 1994. Hundreds of homeowners have relied on us to help them make a wise investment in their home and avoid costly roofing repairs and replacements.
Call us today at (410) 374-5923 if you have any questions about your roof inspection in Cockeysville, MD. We'd be happy to talk about your roofing needs!
Roof Right's Service Awards and Reviews!
What We Look For: Roof Inspection in Cockeysville, MD
At Roof Right, our motto is here to serve. That means you can trust us to expertly identify any issues with your roof, and provide you with the right recommendations on what kind of service your roof will need to maintain its purpose. Which is to protect your home and the loved ones inside.
When you contact us for a roof inspection in Cockeysville, MD, a Roof Right team member will arrive at your home and look for the following:
Shingles that are missing or damaged
Shingles covered in moss
Shingles that are faded or discolored
Roofings that is buckling, sagging, or bowing
Gutters that are clogged, dirty, or damaged
Fascia and soffits that are rotting or damaged
Roof flashing that is torn or damaged
Signs of wood root
Gaps in the roof allowing light into the attic
Signs of moisture collecting
Why are Roof Inspections Important?
Your roof, just like your care, should get routine inspections. Ideally every 2 to 4 years. If you think about it, your roof takes a lot of abuse from the elements. More so than any other part of your home, preventative maintenance is a key element to longer service life. A roof inspection in Cockeysville can help you assess any damage to your home and prevent small problems from becoming larger ones.
Ideally, you will want to get your roof inspected if your home has experienced a severe storm recently, you have just purchased a home, or you are noticing signs of wear and tear as you walk around your property.
Roof Right: A Company That Goes Above and Beyond For You
When you hire Roof Right to install or repair your gutters, we will not only meet your expectations but also exceed them. Our commitment to high standards of customer service and our ability to always go above and beyond for our clients has generated recognition for Roof Right as a trusted contractor in Maryland. For instance, Roof Right has earned the Angie's List Super Service Award 10 years in a row! This prestigious award is reserved for extraordinary contractors who reach the top 5% on Angi. We also have a 98% overall satisfaction rating on Guild Quality.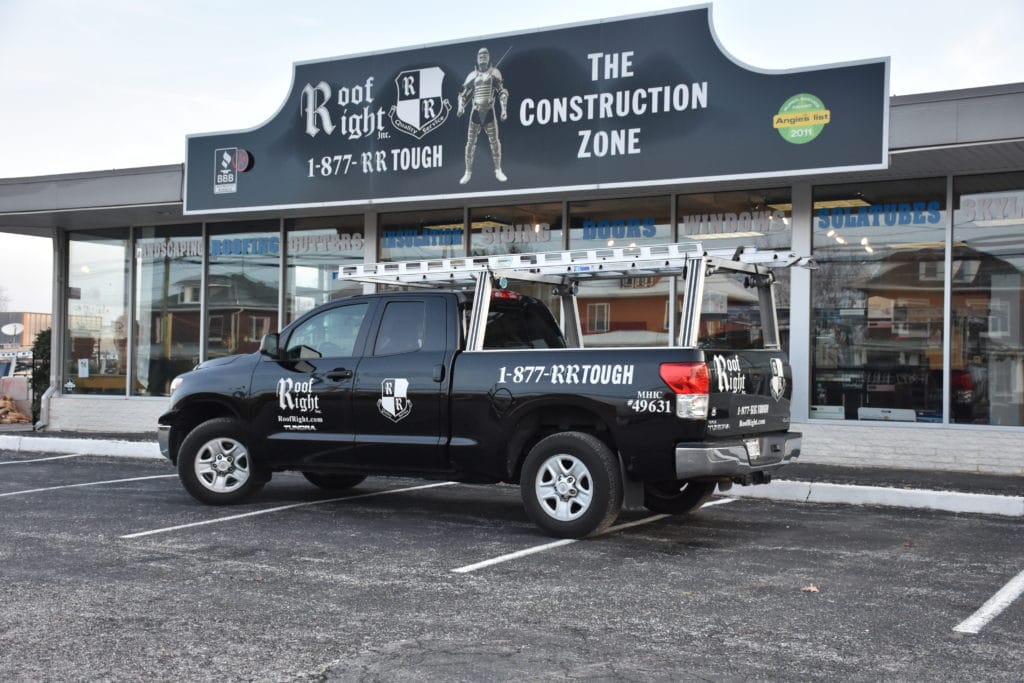 Serving Homeowners throughout Maryland Since 1994!
At Roof Right, we have realized customer service and trust are poorly lacking in the roofing industry. That is why our roofing company takes pride in our exceptional service which includes showing up when we say we will, providing a thorough 17-point inspection, listening to you so we can make a quick and thorough diagnosis of your roofing problem, and cleaning up after ourselves as we work
Highlights of Partnering With Roof Right
All of our estimators and crew are licensed and insured.
We carry multiple brands so you have a variety of options
We do a free attic inspection (not many companies do!)
We use project managers to oversee our projects.
We will pay for pet care while completing your project.
Need financing? We got you covered!
Schedule Your Estimate With Us!
Questions? We have answers!
Give us a call or send us an email!