TAMKO Roof Installation in Sykesville
Roof Right is proud to highlight our latest project, a TAMKO Roof Installation in Sykesville, MD. This home's roof had experienced wear and tear and weather damage over the years, with several loose and torn shingles, so the homeowners felt it was time for a major upgrade.
In coordination with our roofing experts, the homeowners decided that TAMKO Titan XT Architectural Shingles in Rustic Slate would be the perfect fit for their new roof. Architectural shingles have a much better reputation than your standard 3-tab shingle. Architectural shingles are much heavier and more durable than 3-tab shingles, lasting three times longer (that's 30+ years!). The homeowners were very pleased with the final product, and it's not hard to see why. Take a look for yourself!
About TAMKO Titan XT Shingles Roofing Products
For more than 75 years, TAMKO has been providing homeowners with long-lasting, high quality shingles that safeguard their homes from the heaviest of conditions and circumstances. With endless styles to choose from, the TAMKO Titan line is the perfect choice for any homeowner that is looking for a durable shingle that also looks great. Titan XT® features some of the most advanced innovative technology in the industry. With powerful engineering, Titan XT shingles are designed to offer an advantage for both homeowners and contractors, combining in-demand product features into one Extreme Technology shingle designed to help weather extreme conditions. 
With endless styles to choose from, the TAMKO Titan line is the perfect choice for any homeowner that is looking for a durable shingle that also looks great.The homeowners above went for the rustic black style, but that is just one of many available to you! Take a look for yourself at the styles TAMKO has to offer.
Roof Right: A Company That Goes Above and Beyond For You
When you hire Roof Right to install or repair your gutters, we will not only meet your expectations but also exceed them. Our commitment to high standards of customer service and our ability to always go above and beyond for our clients has generated recognition for Roof Right as a trusted contractor in Maryland. For instance, Roof Right has earned the Angie's List Super Service Award 10 years in a row! This prestigious award is reserved for extraordinary contractors who reach the top 5% on Angi. We also have a 98% overall satisfaction rating on Guild Quality.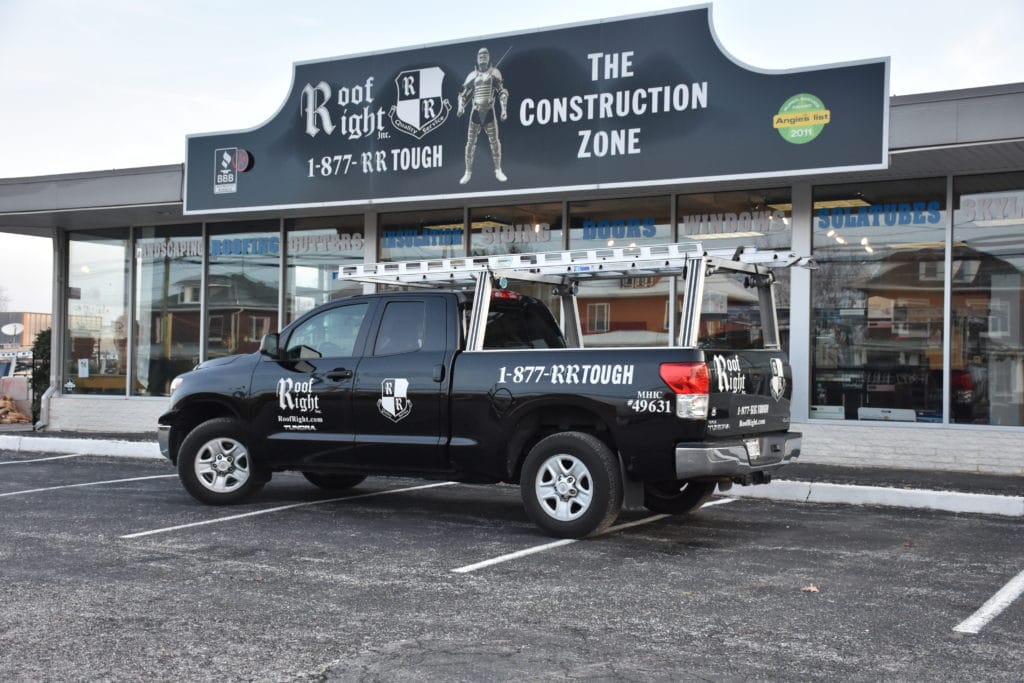 Serving Homeowners throughout Maryland Since 1994!
At Roof Right, we have realized customer service and trust are poorly lacking in the roofing industry. That is why our roofing company takes pride in our exceptional service which includes showing up when we say we will, providing a thorough 17-point inspection, listening to you so we can make a quick and thorough diagnosis of your roofing problem, and cleaning up after ourselves as we work
Highlights of Partnering With Roof Right
All of our estimators and crew are licensed and insured.
We carry multiple brands so you have a variety of options
We use project managers to oversee our projects. 
Need financing? We got you covered!
Schedule Your Estimate With Us!
Questions? We have answers!
Give us a call or send us an email!