Slate Roof Repair in Baltimore, Maryland
Roof Right is proud to highlight our latest project, a Slate Roof Repair in Baltimore, Maryland. The original slate on this home had been worn down from natural wear and tear over the years, leaving the homeowners ready for an upgrade.
This was one of our favorite projects we've done here at Roof Right, and it's not hard to see why. Just look for yourself:
The Advantages of Slate Repair in Baltimore, MD
A slate roof repair has several advantages:
Durability: Slate is a natural stone that is known for its durability and can last for over a century. When properly repaired, slate roofs can continue to provide protection and insulation for many years to come.
Aesthetics: Slate roofs have a unique and attractive appearance that adds value and curb appeal to a property. A well-maintained slate roof can enhance the overall look and feel of a building, making it more visually appealing.
Energy efficiency: Slate roofs are naturally insulating and can help to regulate the temperature of a building, reducing the need for heating and cooling systems. This can result in lower energy bills and a more sustainable living environment.
Low maintenance: Compared to other roofing materials, slate requires minimal maintenance. Once repaired, it is unlikely to require additional repairs or replacements in the near future.
Environmental benefits: Slate is a natural material that is sourced from quarries, making it a sustainable choice for roofing. It is also recyclable, reducing the amount of waste that goes into landfills.
Roof Right: A Company That Goes Above and Beyond For You
When you hire Roof Right to install or repair your gutters, we will not only meet your expectations but also exceed them. Our commitment to high standards of customer service and our ability to always go above and beyond for our clients has generated recognition for Roof Right as a trusted contractor in Maryland. For instance, Roof Right has earned the Angie's List Super Service Award 10 years in a row! This prestigious award is reserved for extraordinary contractors who reach the top 5% on Angi. We also have a 98% overall satisfaction rating on Guild Quality.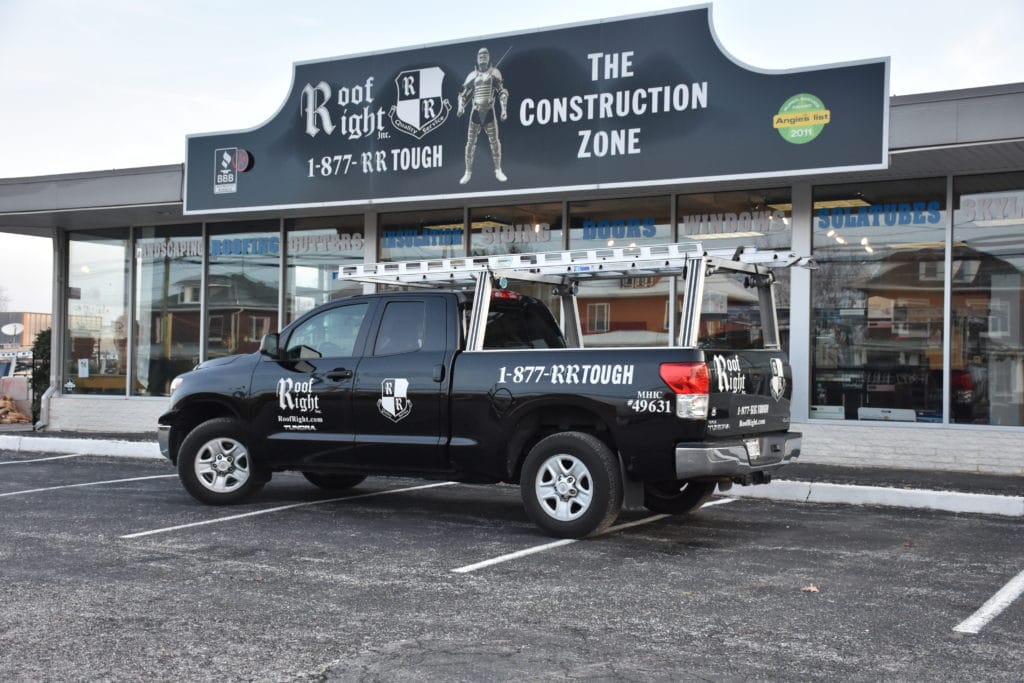 Serving Homeowners throughout Maryland Since 1994!
At Roof Right, we have realized customer service and trust are poorly lacking in the roofing industry. That is why our roofing company takes pride in our exceptional service which includes showing up when we say we will, providing a thorough 17-point inspection, listening to you so we can make a quick and thorough diagnosis of your roofing problem, and cleaning up after ourselves as we work
Highlights of Partnering With Roof Right
All of our estimators and crew are licensed and insured.
We carry multiple brands so you have a variety of options
We use project managers to oversee our projects. 
Need financing? We got you covered!
Schedule Your Estimate With Us!
Questions? We have answers!
Give us a call or send us an email!