Owens Corning Roof Installation in Manchester, MD
Roof Right is proud to highlight our latest project, an Owens Corning Roof Installation in Manchester, Maryland. This home's roof had experienced wear and tear and weather damage over the years, so the homeowners felt it was time for a major upgrade.
In coordination with our roofing experts, the homeowners decided that Owens Corning Architectural Shingles in Colonial Slate would be the perfect fit for their new roof. Architectural shingles have a much better reputation than your standard 3-tab shingle. Architectural shingles are much heavier and more durable than 3-tab shingles, lasting three times longer (that's 30+ years!). The homeowners are very satisfied with the final product, and it's not hard to see why. Take a look for yourself:
About Owens Corning TruDefinition Duration Shingles
Owens Corning TruDefinition Duration Shingles are a highly sought after roofing solution for homeowners who value durability, style, and energy efficiency. These shingles offer a wide range of benefits that make them an ideal choice for those in the market for a new roof.
In terms of durability, the TruDefinition Duration Shingles are designed to withstand extreme weather conditions, ensuring long-lasting protection for your home. The shingles are made from high-quality materials and are engineered to be resistant to damage from wind, rain, and hail. This not only provides peace of mind, but it also helps to minimize the likelihood of costly repairs in the future.
In terms of style, the TruDefinition Duration Shingles are available in a wide variety of colors and styles, allowing homeowners to choose a roof that complements the aesthetic of their home. The shingles are specifically designed to enhance the color contrast and depth of your roof, providing a beautiful and visually striking appearance.
The energy efficiency of these shingles is another important benefit. The shingles are designed to reflect the sun's rays, which helps to keep your home cool, reducing the need for air conditioning. Additionally, the shingles have a special layer that helps regulate the temperature inside your home, improving overall energy efficiency and comfort.
Roof Right: A Company That Goes Above and Beyond For You
When you hire Roof Right to install or repair your gutters, we will not only meet your expectations but also exceed them. Our commitment to high standards of customer service and our ability to always go above and beyond for our clients has generated recognition for Roof Right as a trusted contractor in Maryland. For instance, Roof Right has earned the Angie's List Super Service Award 10 years in a row! This prestigious award is reserved for extraordinary contractors who reach the top 5% on Angi. We also have a 98% overall satisfaction rating on Guild Quality.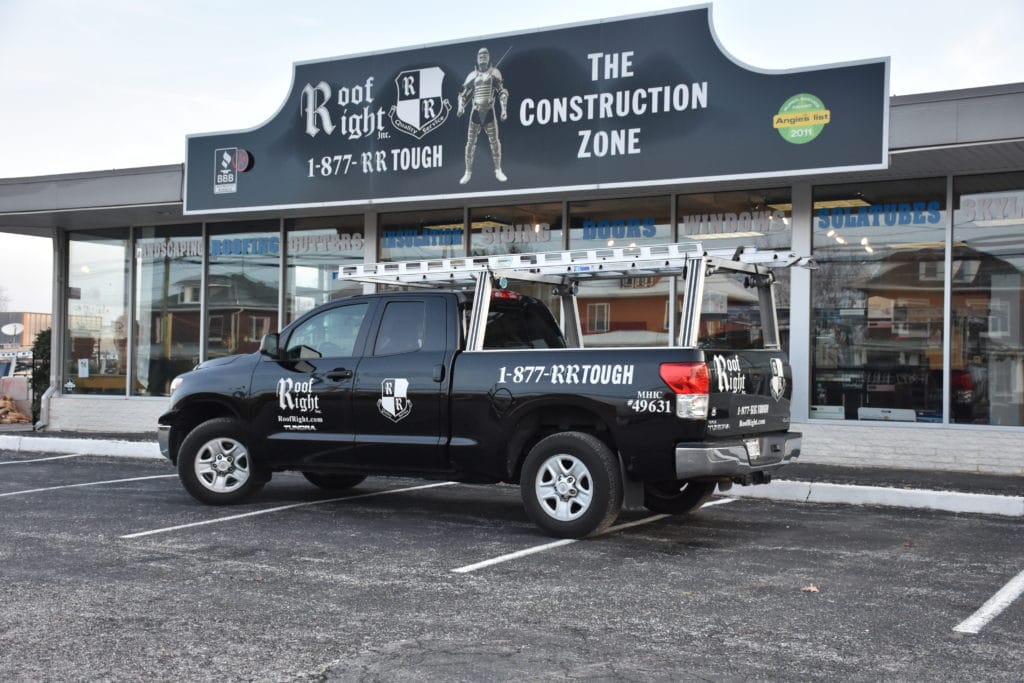 Serving Homeowners throughout Maryland Since 1994!
At Roof Right, we have realized customer service and trust are poorly lacking in the roofing industry. That is why our roofing company takes pride in our exceptional service which includes showing up when we say we will, providing a thorough 17-point inspection, listening to you so we can make a quick and thorough diagnosis of your roofing problem, and cleaning up after ourselves as we work
Highlights of Partnering With Roof Right
All of our estimators and crew are licensed and insured.
We carry multiple brands so you have a variety of options
We use project managers to oversee our projects. 
Need financing? We got you covered!
Schedule Your Estimate With Us!
Questions? We have answers!
Give us a call or send us an email!